It's the evening of Halloween 2020, in the middle of a pandemic. This means I'm doing the same thing I do nearly every other night of this damn pandemic - sitting at my computer (actually standing, I have one of those desks now).
I spend much of my time these days on random thinking. My thoughts tonight turned to the optimism I held during the spring because I ordered a set of socks to wear on Halloween. [In my closing months of my appointment in Toronto, I took to trying to have a sock game]  Those socks will remain in their packaging, ready for the Halloween when we all break out and party again, I'd like to say 2021, but who knows.
As I just went thought my sock drawer, I saw the Halloween socks and for some reason this struck me more than usual.
Got me thinking about recent Halloweens, and I'm feeling inspired to write.
Two years ago, I was in Stoney Creek handing out candy as I relaxed after the municipal election. It was great fun, as I know most of the neighbours of my friends out there were I usually spend much of my summer time visiting. I quite enjoyed that Halloween.
Last year, that was fun Halloween, complete with a "scary" plane right. October 31 last year saw a significant windstorm, one which dislodged a large barge which had been grounded in the same location over Niagara Falls for more than 101 years.
I flew from Toronto to Halifax that day on Porter airlines alongside my Fellow-at-Large colleagues.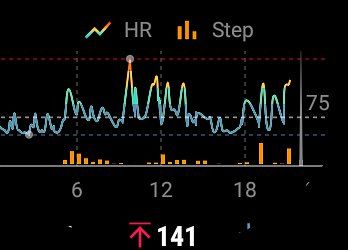 Take-off from Toronto was uneventful. Above is my heart rate chart for the day from my smartwatch. We took off around eight o'clock in the morning. You can see how relaxed I was during the flight, then the spike to 141. I was actually quite calm as the plane experienced a great deal of turbulance approaching Ottawa for our first landing of the day. It was quite the ride, a few people were vomiting, and I was definitely not enjoying the ride. As we were nearing our landing, a particularly strong crosswind jostled us in the passenger cabinet, and I experienced quite the rush of adrenaline. I quickly calmed myself.
We were only at Ottawa's airport briefly, the next increase in my heart rate is the anxiety of takeoff. I was able to relax while were cruising. The approach into Halifax was worse than that of Ottawa, this is the long sustained plateau.
A few people who are frequent flyers - including often flying "bush planes" into isolated communities - were remarking about how bad the turbulance and winds were on this day. There is a particularly rough patch of turbulance, one of my colleague's water bottles loosens from her hands. They remark something about having lost it, I manage to grab it as it rolls by on the floor. The winds are strong, the clouds very low, it is one of the longest feeling landings I've experienced.
We finally get onto the wet runway, and the flight is over. We all enjoy sharing stories of it. On my flight back to Toronto Sunday night (my colleagues remained in Halifax another day), there were others who flew on the same Thursday flight into Halifax, they told stories of it. I listened and enjoyed an uneventful night flight home to Toronto.